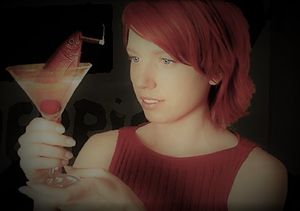 tiko benson - bass / vocals
Tiko (Tim Benson ) hails from a long line of old world tobacco farmers out of the mountains of Tennessee, so it's no wonder that he enjoys a fine cigar before a show, after a show, or even during ... establishment permitting. Given to excesses, Tiko's bass has a few too many strings (7), but he thrives on the excitement of pounding out foot-stompin', booty-shakin' bass lines as bedrock for one of the solidest rhythm sections in the Seattle area today. As for any information on his mysterious past, you'll have to inquire directly. He does prefer the direct approach.
john comstock - guitar / sax / vocals
John Comstock comes from a family more musically gifted than the Von Trapps. In fact he established himself early on as a "disciplined" musician when he was sent home early from a school band competition.  Apparently, there was a misunderstanding.  A true Gemini, John has been known to forget which instrument he agreed to play on a given song – but it usually turns out ok.  When all else fails, a little sax does the trick.  Born in Seattle (a few years back), John has crossed paths with hordes of great Northwest musicians. Some of them became famous. In his spare time, John likes to ….. wait a minute, "spare time"? 
A life-long resident of the Pacific Northwest, Jon Garberg could be thought of as sort of a "Godfather" to the Herring. When he and his college buddy, Mike Quaranta, co-founded the band back in 1994, they had a vision - a vision of what live rock-n-roll entertainment should be. Like the blacksmiths of old, Jon has relentlessly molded his vision into reality by enthusiastically pounding out raw, molten rhythms. And, as is the case with any good Godfather, he welcomes all guests to the Herring functions with a warmth that can only be described as "family."